SAFE IS DESIRE presents lesbian safer sex in the evocative FATALE VIDEO style-raw lust and passion with a heart.





Beautifully shot, scripted and performed,
SAFE IS DESIRE will challenge negative attitudes toward safer sex for lesbians... Safe Sex is Great sex!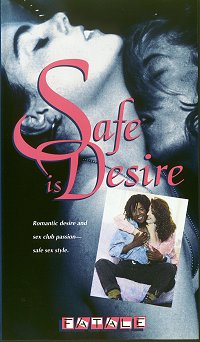 Allie and Dionne are in love, but safer sex issues threatend their new relationship.





They visit a San Francisco sex club where they see lesbian sex, 90's style, in a lust-filled orgy scene, a delightfully playful demonstration by the Safe Sex Sluts, and other downright kinky-as well as safe-lesbian sex.


VHS Video Formats:

NTSC: $34.95PAL: $39.95