Queer Manor



DVD and bonus extras: $29.95

This Video is Currently Out of Stock



Sultry Lesbian Porn from Madison Young
Stylized...

Seductive...

Achingly sexy...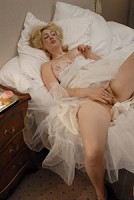 Queer Manor by Madison Young takes us into the world of pure lesbian sex. Like the string of pearls Sadie Lune pulls from her pussy in the first scene, masturbation scenes are interspersed throughout. Each character has her own individualized method of getting off, and its a thrill to watch.
Each of the stars masturbates with her fingers, too. No vibrators need apply.
Queer Manor is a slightly sly takeoff on The Crash Pad. In Queer Manor, there are "rooms" in Madison Youngs "manor" where we viewers "witness" the hot lesbian sex taking place inside.
Right from the start, you know this lesbian DVD is going to be something differentbeautiful, with a tongue-in-cheek sense of humor. There are layers here, and were not just talking petticoats!
Scene 1 is a perfect example. The coifed and corseted Sadie Lune holds a silver compact mirror up to watch her own face as she masturbates herself to multiple orgasms. Totally self-absorbed in that mirror, she eventually draws a string of pearls from her own pussy and sucks them into her mouth.
¤ ¤ ¤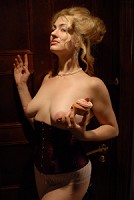 Her lady in waiting, Anne Lane, mimics a French maid, and sure enough they murmur in French to each other.
It's when the cupcakes come out (and land on each dykes pussy) that a little voice whispers inside your head, "Let them eat cupcakes." Madison Young, youre a cunning fox!
Then Anne Lane is alone in her room, a rope around her neck and down between her legs. Sexy, masturbatory excitement oozes.
Room 509, the next scene, finds us with Madison Young herself. Dressed in black lacy thigh-high stockings, waist-high black lace panties, black lace brassiere and jacket, she sips a Scotch on the rocks and plays with a wrapped cigar.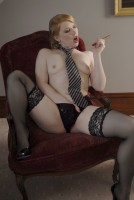 Blood-red lipstick and a 40s-style hairdo add to the mystery, and you cant take your eyes off her as she fingers herself and plunges the cigar inside herself.
Enter Anja, one of the few more visibly tattooed characters here, small and darker-skinned and submissive. Before you know it, Madisons lace panties come off and Anja is sucking Madisons toes and feet.
But Madison gets to fuck her little Anja too, a lovely, clit-bursting scene that involves a green dildo sliding into Anjas completely waxed pussy. Anjas is one of the sexier mounds weve ever seen on film.
Anjas own masturbation scene follows in a cramped but clean bathroom, Anja dressed in purple lace panties and bra, some unexpected kazoo-like music playing in the background.
The penultimate scene begins with the big girl Liz lathering herself in a bubble bath. After shaving her legs, she diddles herself amid the bubbles.
Her real-life partner Finn begins shaving in the bathroom mirror, and lovely Liz, fresh from her bath, finishes the job.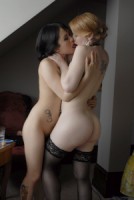 Liz is most assuredly the femme top here, and down to the floor on bent knees goes the submissive butch Finn. A merciless spanking follows, and Finns butt is a fierce shade of red.
After Liz sucks Finns cock, the only strap-on in the film, Finn gets to play tit-clamps with Lizs big-girl boobies.
The degree of artistry and polish in Madison Youngs work is refreshing and downright sexy and clit-tingling.
Recommended for Madison Young fans—shes been in Superfreak, Champion and Nostalgia.