This video captures two truly gifted sexual beings enjoying what comes so naturally to them. Their luscious sensuality will leave you dripping!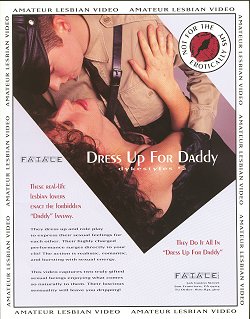 They dress up and role play to express their sexual feelings for each other. Their highly charged performance surges directly to your clit! The action is realistic, romantic, and bursting with sexual energy.
This video is available only in VHS, for viewing in the U.S. and other counties using the NTSC format. It is not available as a DVD.


Dress Up for Daddy
ONLY VHS Video Format:

$34.95
What is my format?
In stock. Ships within 24 hours.