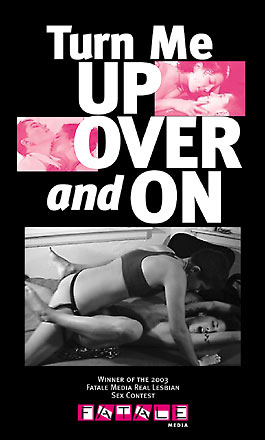 Producer and Director: Carolyn Caizzi
Executive Producer: Nan Kinney



Music: Siebren Versteeg
Photo credits: © 2003 Carolyn Caizzi



B/W. 28 mins. Rated X.


---
Also by Carolyn Caizzi:
Special Delivery

DVD: $29.95
Coming Home

DVD: $29.95
---
What customers say:


"'Turn me up, over and on'...*sigh* Who needs Robbie Williams! LUKE is the name of my new star! She is wonderful, the film is wonderful! Up to now, I only saw man-woman porn. But it was the REAL feeling, the REAL love, that I was missing. 'Turn me...' got all I want." —A.H., Germany




Turn Me Up Over and On



by Carolyn Caizzi


"Carolyn Caizzi makes porn with the eyes of an artist. Art isn't supposed to turn you on, but this piece sizzles! Art? Porn? Who cares. This femme and her boi are hot."


— Barbara DeGenevieve


www.ssspread.com
Director, Full Load: Scenes from ssspread.com

"The women are crazy about each other, and the sex is sweet and affectionate, with lots of kissing and foreplay, and wildly contagious intensity once they get going...Bottom line: Simple and superb."


— Greta Christina, On Our Backs (April/May 2004)



Turn Me Up Over and On by Carolyn Caizzi opens with a humorous burlesque short, "Titillation," which will make you laugh and get you right in the mood for the feature flick to follow.




Laugh-out-loud funny, "Titillation" has just that touch of the zany we love to see from young filmmakers.

The short stars Carolyn herself, or rather, her breasts. Shiny tasseled pasties don't detract from the antics her breasts are doing in this wonderful comedy with a vaudevillian tune by Craig Riley.




The main feature, "Turn Me Up Over and On," is hot-and-heavy, hands-down-the-pants, give-us-the-vibrator-right-away amateur lesbian porn.



Ava is a sultry and sexy olive-skinned femme awaiting the arrival of her butch lover, Luke, for an afternoon tryst. When Luke arrives, the clothes come off fast...

... and we find Luke in a gorgeous strap-on, ready for Ava.

But Ava has other ideas. She begins by lightly spanking Luke to get Luke ready, then she pulls out a lovely suede whip. But that's just for starters.

Before long, Luke is face-down, receiving an anal rimming session. Then Ava decides to get serious, and Luke receives a serious butt-fucking. Ava's fingers are deep inside as Luke jerks off at the same time.

To top off the afternoon, Luke gets a loving hand job from Ava.

Then it's Ava's turn. Luke gives her a serious finger-fucking before finishing her off in a long, sexy, strap-on fuck.
After explosive orgasms, we see the lovers lying in bed completely spent and kissing sweetly.


We were hooked the moment we saw Turn Me Up Over and On. From this Chicago-based young dyke with the chutzpah to dive into into women's porn comes just the sort of amateur sex video the Real Lesbian Sex contest was created for and meant to celebrate.



Turn Me Up Over and On



Producer and Director: Carolyn Caizzi
Executive Producer: Nan Kinney



Music: Siebren Versteeg
Photo credits: © 2003 Carolyn Caizzi



B/W. 28 mins. Rated X. $29.95


And check out Afterschool Special, previous winner of the Real Lesbian Sex contest.