My Best Friend's Perfect Pussy
Sexy twosomes and threesomes cook up some sexy lesbian fun!




DVD: $24.95





In Stock. Ships within 24 hours.


Sheer queer lesbian delight fills the screen in Courtney Trouble's My Best Friend's Perfect Pussy.
Staring queer lesbians Ela Darling and Drayen Star, Sandy Bottoms and Nicki Hearts, Denali Winter, Daisy Ducati and Nikki Darling; and Emerald X File and Stevie.
Pussy-licking good!
These sexy lesbian babes revel in kissing and fingering each other...leading up to finger-fucking and pussy-sucking. With the reward of oozing female-ejaculating orgasms!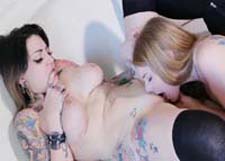 Lovely blond Ela Darling and tattooed, dark-haired beauty Draven Star come steaming out of the gate in pure femme-femme sizzling action!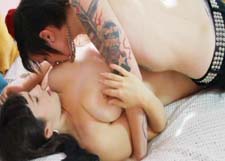 The lucious Sandy Bottoms is mouthwatering as lets the impassioned Nicki Hearts have her way with her. Mmm-mmm good.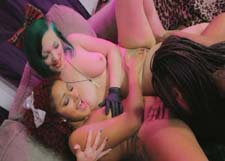 A three-way that left our hearts pounding and clits tingling! Yours will be too once you see the big-ass three-way dildos thumping and vibrators buzzing. Starring green-haired Denali, redheaded Daisy Ducati and dreadlocked Nikki Darling, this slumber party will keep you awake for a long, long time.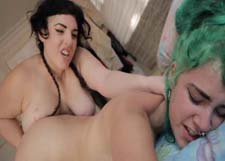 Emerald X File and Stevie have raw passion between them, chemistry that you'll feel from the first passionate kiss...and then down, down, down they go.
Shot in high-definition and pure Dolby Sound, with My Best Friend's Perfect Pussy, Courtney Trouble has another queer lesbian winner!
Courtney Trouble is an important voice on the scene of queer and lesbian porn. For fans of Lesbian Curves, Hard Femme, Lesbian Curves 3, Roulette, Nostalgia, and one of our favorites, Seven Minutes in Heaven, My Best Friend's Perfect Pussy is a perfect addition to this growing collection of sexy porn..